Specializing in weddings and full scale events, Loco Catering Group services any event and every menu. Our specialty is cooking hot fresh food right from our 3 beautiful mobile kitchen food trucks. We do catering deliveries, and events from venue kitchens as well.
Taco Loco offers authentic Mexican street tacos and Loco BBQ offers authentic Southern smoked BBQ meats and sides.
THE FOOD TRUCK EXPERIENCE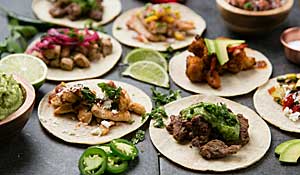 Servicing corporate and private events throughout Connecticut and New York.
Weddings
Company Picnics
Graduations
Beach Parties
Birthdays
Bar/Bat Mitzvahs
Confirmations
Bridal and Baby Showers
Rehearsal Parties
Corporate Lunches
Employee Appreciation Day
Team Outings
Reunions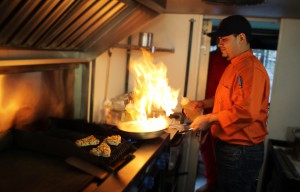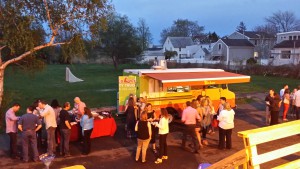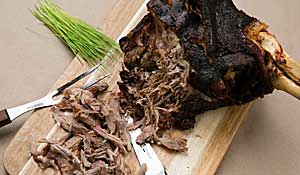 With a passion for food and service our event staff is: creative, energetic and always the life of the party. We go above and beyond to accommodate all of your requests and make sure your guests are having a wonderful experience.
Our parties' start with 45-60 minutes set up time (depending on party size) where we will prep and cook everything fresh, on-site. You and your guests will then have a two-hour all you can eat food and beverage service window from one of our beautiful self contained party truck. We provide the plates, napkins, and utensils.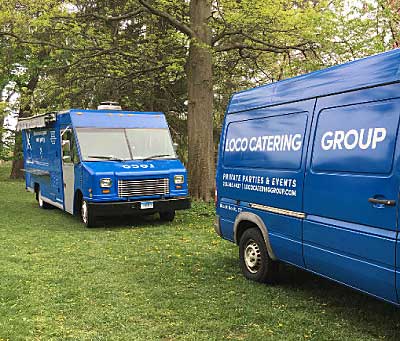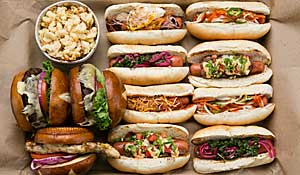 Book one of our three full-service party trucks today! Sit back and relax while we entertain and feed your guests. Eliminate the need to Plan, Shop, Prep Food, Cook, Serve, and Clean Up. All you need to do is send the invites!
Please let us know if there are any allergies, dietary or food restrictions we should be aware of. All of our facilities are 100% nut free. We do not use MSG in any of our products. Most of our menus are gluten free or we can accommodate.
Our trucks are fully covered and have awnings above the service windows. We cook in our trucks through all weather conditions. We can pull up to tents or garage doors if need be. If you would like food brought into and set up in a house or building please let us know at the time of booking as we will need to plan for additional staffing.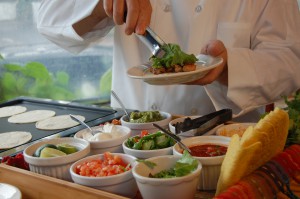 Loco Catering Group also provides your event's cocktail hour with complete passed hors d'oeuvres menu, open bar service, and event staffing with bartenders and butlers. Need help with party rentals? Our event management team has relationships with vendors throughout the state and will point you in the right direction for all party necessities.
If you are hosting a party and want to have multiple food trucks, this is the perfect opportunity to work with one company to take care of the whole job. Combine any of our menus and we can have two or more of our food trucks at your event feeding up to 500 people with ease.
We also create custom menus for weddings and can use our trucks to cook fresh, on-site, for an upscale buffet dinner as well.
Affordable and highly recommended. I would highly recommend Taco Loco for any party. Beyond the superior service by Zachary and his crew, the food was fresh, delicious and abundant. The servers were friendly, approachable and very helpful throughout the party. In an area where catering can sometimes be costly, Taco Loco was very affordable. Thank you Taco Loco.
Delicious food and friendly staff. We used the Taco Loco Party Truck for our End of Year staff party, and everyone loved it! The food was delicious, and the staff were friendly and easy to work with. It was so nice to be able to sit back, relax and enjoy the party, knowing that everything was taken care of.
We had Taco Loco and several other food trucks for King School's 8th grade moving up ceremony dinner. Taco Loco was always the first to respond to emails and the first to get the completed contract signed and ready. At the dinner, Taco Loco always had the most people at the truck.
Taco Loco's Food Truck was a great choice for our faculty and staff Donor Recognition Day! Zachary was extremely easy to work with and very organized. He and his staff were able to feed over 200 of our employees in an efficient and timely manner.
Making the decision to have a food truck wedding was quite nerve wrecking having never been to a wedding with this different concept before, BUT Taco Loco was the absolute best decision we ever made. We cannot thank Zachary and his staff enough as they took care of the food and also hired their bartending service as well. Both great decisions. Zachary took the time to meet with us a few times before the big day to give us a tasting, and coordinate all that went into making sure everything ran smoothly. He took all the worry out of having enough for our 100 guests and they also helped to get the party started! We have the utmost respect for Zach and his staff and level of professionalism. Without a doubt we will hire them again and can't thank them enough for making our day even better than imagined! Get the Truck you won't be disappointed!!
We recently used the Taco Loco food truck for a large neighborhood block party and I could not have been more thrilled with the experience. Everyone had a great time and raved about how tasty the food was and the service was incredible. They were so accommodating from start to finish. I highly recommend and hope to use them again in the future.